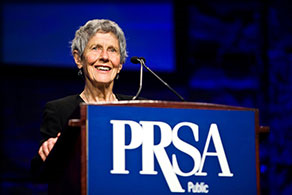 Isobel Parke was born in 1926 in Dorset, UK, the 3rd of 5 daughters of Charles and Jean Hamilton Gordon Parke. She graduated from the Winsor School, Boston, MA, and Lady Margaret Hall, Oxford, UK, with a degree in History in 1947. Isobel worked for a short time at the UK Ministry of Education. After teaching in Germany and Kenya, she served as the adult education manager at Moor Park College (Farnham, UK) for 12 years.
In 1965, Isobel joined the behavioral public relations and management consulting firm of Jackson Jackson and Wagner in NH, where she provided invaluable counsel to clients in a wide variety of industries for over 5 decades. She was a trailblazer, advocating for public relations practitioners to have a place at the decisionmaking table and influencing the PR field with their innovative strategies and behavior-change theories. She was married to Patrick Jackson, a past PRSA president and PR leader in the public relations field.
An accredited member of the Public Relations Society of America (PRSA), Isobel served as National Secretary. She was inducted into the College of Fellows in 1991. She served as PRSA's representative on the Council for Journalism and Mass Communications as well as on two PRSA education commissions. Isobel was best known for her work with independent schools and environmental concerns. Her work with the coalition SPACE (Statewide Program of Action to Conserve our Environment) led to a NH constitutional amendment change in 1968 and passage of the current use law to preserve open space in NH – a law that still stands today. She was the first woman president of the NH Timberland Owners Association and served on both the boards of Lamprey River Watershed Association and UNH Cooperative Extension Rockingham County Advisory Council. Passionate about land conservation, she worked closely with the Southeast Land Trust on their efforts to conserve open space.

http://bodypiercingsavedmylife.com/

Since 1963, Isobel lived on Tributary Farm, a 1745 house in West Epping, NH with 700 blueberry bushes and 160 acres of forest land. She loved spending time outdoors and in her garden; and every July, she would host a blueberry breakfast for members of her JJ&W family. Raised in the Episcopalian church, she became a long-time member of the West Epping Quaker Meeting. Loved and respected by countless family members, friends, professional colleagues and clients, Isobel will be missed by us all.

A Celebration of Life will be held in the spring and announced when set. In lieu of flowers, please make a donation to a conservation or environmental fund of your choice.